We are just 10 days away from Movember.....no, that is not a typo.
During November each year, men across the world grow mustaches - using their faces to raise money and awareness for mens health, specifically prostate cancer and other cancers that affect men. Last year alone, Movember raised over $80 million which was then donated to various prostate cancer organizations around the world - including $3 million to LIVE
STRONG
.
Check out this video the history behind this groups efforts:
Behind the Moustache: The Movember Story | Break.com
Those that participate are MoBros. There are plenty of women that want to support the cause because we love our MoBros. I have lost two important men in my life to cancer - my father and my husband - and my father-in-law was recently diagnosis.
I can't grow a Mo
(the Australian lingo for a mustache)
BUT I can certainly glue one on!
To support this important cause I've decided to make my little jog through the streets of NYC a little more interesting.
I'll be running the NYC Marathon in support of both LIVESTRONG and Movember. I'll be sporting my yellow Team LIVESTRONG shirt while wearing a fake mustache.
But which mustache should I wear? That I will let you all decide.
Below are several mustache designs. Pick your favorite and made a donation in the amount referenced next to the design. Donations can be made on my Movember page using this link: Pick a Mustache for Barb
The most popular dollar amount donated ($25, $20, $15 or $5) will determine the winning Mo.
And of course, if you'd like to make an additional donation to support my efforts for LIVE
STRONG
and my final race of my "Coast to Coast" Tour, please do so here:
Support Barb's RunningSTRONG for Hope to benefit LIVESTRONG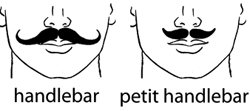 $25

$20

$15

$5